Yesterday was rough on me for a few reasons, and after reading the daily newspaper on my breaks, I decided that I couldn't wait to get home and mess in my art journal.
I showed it to my husband, and he appreciated it for what it was, without trying to interpret it. I love him for that. He said it was nice to look at, even if it was cluttered.
Without explination of any of it, here it is. I did two pages yesterday, because one page wouldn't hold everything I needed to say.
Feel free to try to interpret it any way you choose, or just sit back and enjoy the art.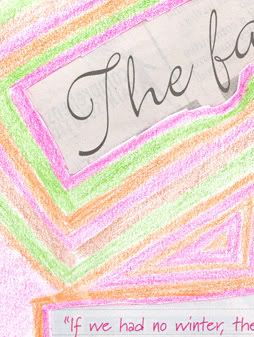 I used bits of yesterday's newspaper and some neat clippings from my two magazines. I embellished with gel pen and colored pencils, since I can't seem to find my craons, my art paints are packed, and crayola doesn't seem to sell watercolor pencils in my town anymore.